These links will take you to Reddit where I post my writing. As of yet, I have not put together character sheets, or other info.
Series Synopsis
In this story, Humanity encounters life from another world, and in so doing discovers that their God is not anyone that they thought, it is in fact Cthulhu. Give it a read if you want to see how humankind deals with impending war alongside an unwanted God.
Story Parts
Thank you to all those who enjoyed reading this story as much as I enjoyed writing it. I hope you have a wonderful day!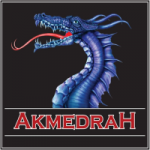 Akmedrah
Author
This story is complete as of May of 2022.